Rocket Fuel in California Drinking Water? No Thank You!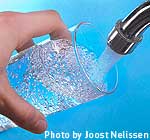 The drinking water of between 15 and 20 million Californians is contaminated with perchlorate, a salt that is the primary component of solid rocket fuel. Help us convince Governor Schwarzenegger to protect our health from this dangerous chemical.
Perchlorate reduces the thyroid's ability to take up iodide and produce thyroid hormone. Even a short term reduction in thyroid hormone can irreparably impair brain development in fetuses and infants, and impact people with thyroid problems.
Despite these serious health impacts, there is no federal drinking water standard for perchlorate thanks to pressure from the White House and polluters such as the Department of Defense.
California is one of only two states that have set a drinking water standard for perchlorate. The California standard is based on a 2004 public health goal of 6 parts per billion (ppb) established by the Office of Environmental Health Hazard Assessment (OEHHA). State law requires that this goal be set at the level at which no adverse health impacts are expected.
Since 2004, however, research has confirmed that the 6 ppb drinking water standard will not adequately protect our vulnerable populations. Clean Water Action wants the state to lower the goal to reflect this research.
Recently, OEHHA announced that they will reevaluate the perchlorate public health goal in 2009. Clean Water Action has met with OEHHA staff to encourage them to lower the public health goal. But we need your help to turn up the pressure.
Take action now by e-mailing Governor Schwarzenegger. Tell him that you do not want rocket fuel in your drinking water and that you support lowering the perchlorate public health goal.
---