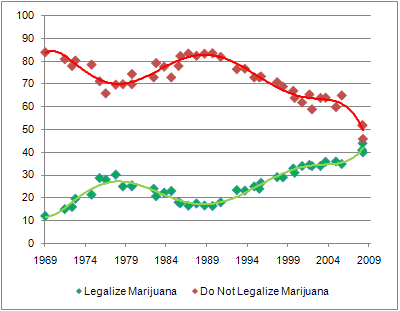 Three recent polls show that Americans are more sympathetic to the idea of legalizing marijuana than ever before. . . That all three polls show support for legalization passing through the 40 percent barrier may be significant. I compiled a database of every past poll I could find on this subject, including a series of Gallup polls and results from the General Social Survey, and could never before find more than 36 percent of the population (Gallup in October, 2005) stating a position in favor of legalization.
Eye Wash Station – After 9/11, the fear of another attack on U.S. soil cleanly supplanted the fear of having one's penis chopped off by a vengeful lover in the pantheon of irrational American fears. While we're constantly being told that another attack is imminent and that radical Islamic fundamentalists are two steps away from establishing a caliphate in Branson, Missouri, just how close are they? How do the odds of dying in a terrorist attack stack up against the odds of dying in other unfortunate situations?
The following ratios were compiled using data from 2004 National Safety Council Estimates, a report based on data from The National Center for Health Statistics and the U.S. Census Bureau. In addition, 2003 mortality data from the Center for Disease Control was used.
You are 13 times more likely to die in a railway accident than from a terrorist attack
You are 12,571 times more likely to die from cancer than from a terrorist attack
You are six times more likely to die from hot weather than from a terrorist attack
You are eight times more likely to die from accidental electrocution than from a terrorist attack
You are 11,000 times more likely to die in an airplane accident than from a terrorist plot involving an airplane
You are 87 times more likely to drown than die in a terrorist attack
You are 404 times more likely to die in a fall than from a terrorist attack
You are 17,600 times more likely to die from heart disease than from a terrorist attack
You are 1048 times more likely to die from a car accident than from a terrorist attack
You are 12 times more likely to die from accidental suffocation in bed than from a terrorist attack
You are nine times more likely to choke to death on your own vomit than die in a terrorist attack
You are eight times more likely to be killed by a police officer than by a terrorist